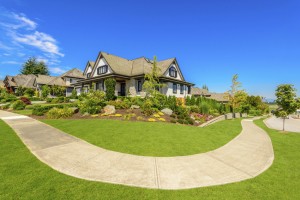 Downtown Plymouth is known and much beloved for its walkable streets, beautiful historic architecture, and wealth of unique local shops, restaurants, and businesses, as well as the exciting community events held at its Kellogg Park throughout the year. As the epicenter of community and entertainment in Plymouth and Plymouth Township, it's no surprise that some of the most desirable neighborhoods in the area are those located around Downtown. Discover some of the top communities close to Downtown Plymouth!
Discover the Top Neighborhoods Surrounding Downtown
Beautiful historic homes line the quiet streets surrounding the Downtown neighborhood of Plymouth, transitioning softly into green, tree-lined streets of large suburban neighborhoods, old homes, lavish estates, and charming new development. For those seeking a home with easy proximity to Downtown, the following communities have much to offer.
Hough Park 
Traditional Cape Cod and Colonial-style homes populate the streets of this revered Downtown neighborhood based around the park after which it's named. For a luxurious lifestyle just steps from downtown, there is no finer choice than Hough Park.
Beacon Meadows
Beautiful custom homes line the elegant and lushly-landscaped streets of Beacon Meadows. Here, residents enjoy not only breathtakingly luxurious homes and natural amenities such as a pond, but also a travel time of just minutes to downtown.
Heather Hills
Located just across the street from Hill Top Country Club, the majestic community of Heather Hills offers access to a wealth of outdoor opportunities and parks. Though it's just minutes from Downtown, Heather Hills is a quiet neighborhood of beautiful homes and lush scenery.
Hunters Creek & Deer Creek
Scenic, natural living awaits in the neighboring communities of Hunters Creek and Deer Creek. Lush lawns, manicured sidewalks, paths and trails, and of course, absolutely breathtaking homes come standard in these convenient communities.
Country Club Village & Condos
Though located a few minutes farther from Downtown than some of the other communities, the luxury of Country Club Village and Country Club Village Condos is well worth the drive. Opulent estate homes, stunning condos, and a wealth of country club amenities offer a truly lavish lifestyle.
Find a Home Along the Scenic Streets of Plymouth
Whether you're looking for a home in the heart of the bustle of Downtown Plymouth or a remote luxury estate tucked on acres of countryside in the farthest reaches of Plymouth Township, there are plenty of options from which to choose! Discover the robust lifestyle of Plymouth, MI, search homes for sale, and learn more about buying a home in Plymouth. When you're ready to buy a home, contact Mike & Mary and let's get started!