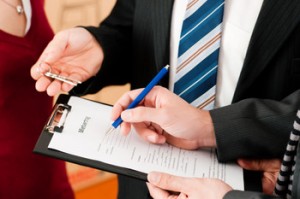 It's a technical term that many home buyers and home sellers can become confused about: Qualified Residential Mortgage.
So what exactly is it and how does it affect you?
In a nutshell, a QRM as it's sometimes referred as, enables home buyers to avoid the costly down payment option when securing a mortgage. And experts believe it's going to go a long way toward helping foster a long-term recovery in the housing market.
Here Are 3 Things You Should Know About QRMs
It will help restore private MBS and Home Sales. This will in turn create competition to government financing, which will expand the total amount of funds available to home buyers. This will then put less taxpayer money at risk.
It will protect investors. After all, QRM requires all issuers of MBS to hold five percent of what they make unless they meet a standard of quality and low risk. This, combined with the Qualified Mortgage Rule that was also part of the Dodd-Frank legislation, will protect financing sources and also the recipient of those funds, the home buyer.
It will help prevent another housing market bubble burst. After all, as time goes on, mortgages with low documentation and risky products will become less and less. This is good news for buyers and sellers all around.
A Final Look at The Qualified Residential Mortgages
Real estate experts predict that while there might not be much of an impact on the local housing market in the short term, the QRM will have a great impact on the long–term health and stability of the housing market.
I encourage you to head over to this recent article to learn even more about the impact that QRMs are expected to have on the housing market.
For now, if you're interested in investing in Plymouth, MI area real estate anytime soon, please take a moment to contact us, Mike and Mary Gladchun, your dedicated real estate experts. We would be happy to assist you!
Until next time,
Mike and Mary